Attack on Titans Theme (FULL) Roblox ID
ID:
Rating:
Description:

The full song. Season 1. A nice toon lolz

Thanks! Your description is awaiting moderation.

Uploaded:
April 08, 2017
Share: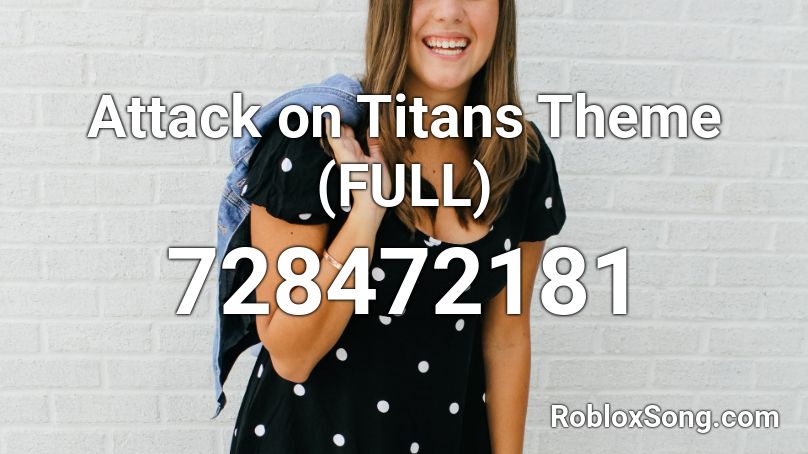 Please click the thumb up button if you like the song (rating is updated over time). Remember to share this page with your friends.
More Attack On Titan Roblox IDs
| Track | Roblox ID | Rating |
| --- | --- | --- |
| Attack on Titan Season 2 - Shinzo wo Sasageyo! | | |
| Attack on Titan (Armored Titan Theme) | | |
| Attack on Titan Season 2 Opening - Sasageyo | | |
| Attack on Titan/Shingeki no Kyojin Opening | | |
| | | |
| --- | --- | --- |
| Attack on Titan Season 2 | | |
| Attack on Titan | | |
| Attack on Titan | | |
| Shinzou wo Sasageyo - Attack On Titan OP 3 | | |
| Attack on Titan OPENING 3 | | |
| Attack on Titan - Female Titan | | |
| SnK - Attack on titan - Call Your Name[full] | | |
| Attack On Titan theme [English] | | |
| Attack On Titan - Attack ON Titan (WMiD) | | |
| Attack on Titan Opening 2 | | |
| Attack on Titan Season 2 OP | | |
| Attack on titan opening 1st | | |
| Attack on Titan OP (Violin) [Loopable] | | |
| Attack on Titan OP 5 | | |
| Attack on Titan Season 2 opening | | |
| | | |
| --- | --- | --- |
| Attack On Titan OST - Colossal Titan Theme | | |
| Attack On Titan Call of Silence | | |
| Attack on Titan - YouSeeBIGGIRL [FULL] | | |
| SnK - Attack on Titan - So ist es immer [full] | | |
| Attack on Titan-「進撃の巨人 」OP 3「Shinzou wo Sasageyo!」 | | |
| Attack on Titan - YOUSEEBIGGIRLTT | | |
| Attack on Titan || Pain of Levi | | |
| attack on titan 8 bit | | |
| Attack on Titan Opening 5 | | |
| Attack on Titan - The Reluctant Heroes | | |
| Attack on Titan Armored Titan Theme (instrumental) | | |
| Attack on Titans Season # opening | | |
| Attack On Titan - APPLESEED | | |
| Attack on Titan - Reluctant Heroes | | |
| Attack On Titan - Annihilate Female Titan | | |
| Attack on Titan Jazz Theme | | |
| | | |
| --- | --- | --- |
| Attack on Titan - Red Swan | | |
| Attack On Titan Outro/Ending 2 | | |
| Attack on Titan - S2 - YOUSEEBIGGIRL_T-T | | |
| Attack On Titan - Zero Eclipse | | |
| Attack on Titan opening 5 『Shoukei to Shikabane | | |
| Attack on Titan Season 2 OP - Shinzou wo Sasageyo | | |
| Attack On Titan - Vogel im Käfig Re-Mastered | | |
| Attack on Titan - S2 - APETITAN (Beast Titan) | | |
| Attack on Titan Season 3 Ending Theme | | |
| Attack on Titan Vogel Im Kafig Epic Soundtrack | | |
| Guren no Yumiya - Attack on Titan KAZOO EDITION! | | |
| Attack On Titan - You See Big Girl | | |
| English Attack on Titan | | |
| Attack on Titan Dead on Arrival | | |
| Ke$ha - Die Young (Attack on Titan Version) | | |