Caillou Trap Remix Roblox ID
ID:
Rating:
Description:

this is a wokring code this is a very good rap but leave if you want onessly i like dis rap

by boom boom

Thanks! Your description is awaiting moderation.

Uploaded:
February 06, 2015
Share: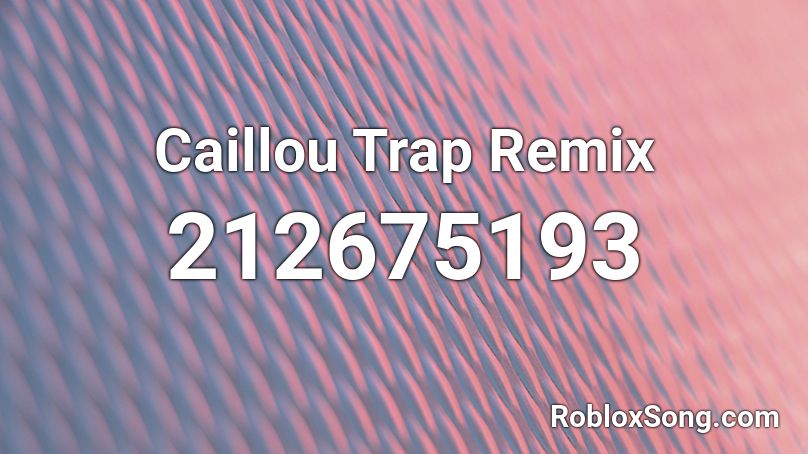 Please click the thumb up button if you like the song (rating is updated over time). Remember to share this page with your friends.
More Caillou Roblox IDs
| Track | Roblox ID | Rating |
| --- | --- | --- |
| Caillou Theme Song THUG Remix | | |
| Caillou Trap Remix | | |
| Caillou got bass doe | | |
| Caillou Theme song thug remix | | |
| | | |
| --- | --- | --- |
| Caillou Theme Song Trap Remix | | |
| Lil B - Swag Like Caillou | | |
| caillou trap remix - ########### | | |
| CAILLOU THEME | | |
| Caillou Thug Song | | |
| [1K SALES!!] Caillou! | | |
| BORIS GROUNDS CAILLOU | | |
| Caillou Cuts School and gets Grounded | | |
| Kermit Sings: The Caillou Theme! | | |
| Caillou Cry | | |
| Creepy Caillou Theme | | |
| Caillou Theme Song | | |
| Caillou Plays Pokemon Go! | | |
| Caillou Crying | | |
| ######## Caillou el CALVO ###### | | |
| | | |
| --- | --- | --- |
| Swag like Caillou - Lil B (Clean) | | |
| Caillou Crying Remix GoAnimate | | |
| Caillou Theme But Caillou is Older | | |
| 01_Caillou_Theme_Song | | |
| Caillou Theme Remix - Trap Song (EPIC) | | |
| Caillou (polish theme) | | |
| Caillou theme 2 | | |
| Caillou gets grounded for breathing | | |
| Caillou Theme Song Instrumental | | |
| Caillou Theme Song Trap Remix THUG VERSION | | |
| Caillou Does the Floor is Lava Challenge/Grounded | | |
| Caillou lives in the hood | | |
| DJ Taj - Caillou | | |
| Caillou Evil Laugh | | |
| Caillou Theme Song ######################## (2) | | |
| Caillou crying on Plotagon | | |
| | | |
| --- | --- | --- |
| Caillou Here | | |
| the prune caillou rap | | |
| Caillou Theme Andrew Cover | | |
| caillou voice compilation | | |
| Caillou Flys To The Moon | | |
| Caillou Anthem (by fredayz) | | |
| PDA:WTA - Caillouland - Haunted Heights | | |
| PDA:WTA - Caillouland - Main | | |
| Caillou Anthem x @DjLilTaj @TheRealDjFlex | | |
| PDA:WTA - Caillouland - Future Party | | |
| PDA:WTA - Caillouland - Wicked West | | |