The neighbourhood -DADDY Issues (slowed down) Roblox ID
ID:
Rating:
Description:

wish it was my daddy has a gun :(

by XxxcatlovercakeXxx

Thanks! Your description is awaiting moderation.

Uploaded:
June 21, 2018
Share: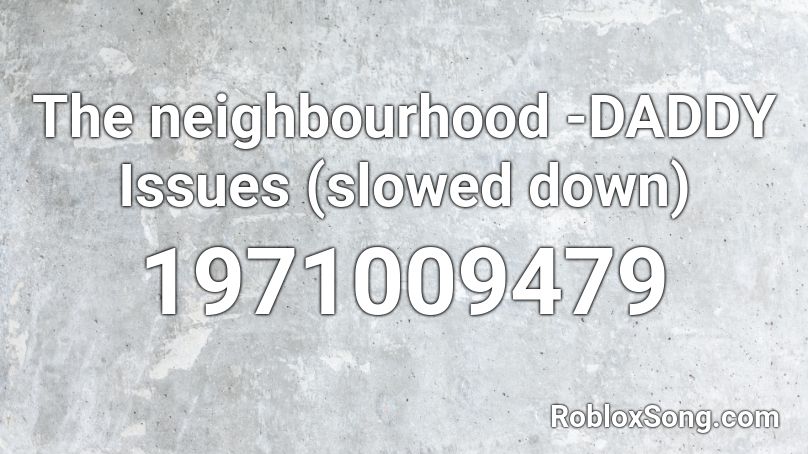 Please click the thumb up button if you like the song (rating is updated over time). Remember to share this page with your friends.
More Issues Roblox IDs
| Track | Roblox ID | Rating |
| --- | --- | --- |
| trust issues | | |
| Bryson Tiller x Trust Issues | | |
| Peppa has issues | | |
| Issues - (RemixKing Remix) | | |
| | | |
| --- | --- | --- |
| NSG - Trust Issues | | |
| Kleavr & Tantrum - Daddy Issues | | |
| Issues (Delgrosso Remix) | | |
| Escape The Fate - Issues (Shift 2 Gladiator Mix) | | |
| PnB Rock ft Yakki - Trust Issues | | |
| We All Got Issues | | |
| The Issues (a) | | |
| The Avengers -Performance Issues #17 | | |
| Core Issues B | | |
| Trust Issues- Varcus | | |
| Social Issues | | |
| Confront The Issues (A) | | |
| Current Issues | | |
| Environmental Issues | | |
| Environmental Issues OL | | |
| | | |
| --- | --- | --- |
| Issues | | |
| Trust issues (Clean Version) | | |
| Today's Issues | | |
| Social Issues | | |
| Debate The Issues (c) | | |
| Debate The Issues (b) | | |
| Delayed Issues | | |
| Daily Issues B | | |
| Political Issues B | | |
| Health Issues | | |
| Daily Issues A | | |
| Core Issues A | | |
| Today's Issues | | |
| Human Issues (B) | | |
| Confront The Issues (B) | | |
| Political Issues A | | |
| | | |
| --- | --- | --- |
| Global Issues (B) | | |
| Today's Issues | | |
| Global Issues (D) | | |
| Debate The Issues (f) | | |
| Serious Issues (a) | | |
| Debate The Issues (a) | | |
| Core Issues C | | |
| Issues Of Conscience 59 | | |
| The Issues (d) | | |
| Confront The Issues (C) | | |
| Human Issues (D) | | |
| Global Issues (O) | | |
| The Issues (e) | | |
| Debate The Issues (d) | | |
| Political Issues C | | |