ZA WARUDO Roblox ID
ID:
Rating:
Description:

for people who stop time in anime jojo games

by Cleverclown525

Thanks! Your description is awaiting moderation.

Uploaded:
April 01, 2018
Share: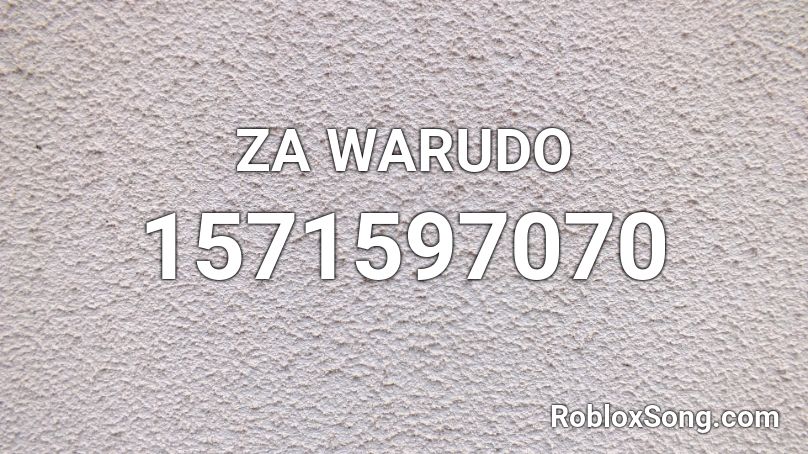 Please click the thumb up button if you like the song (rating is updated over time). Remember to share this page with your friends.
More za warudo Roblox IDs
| Track | Roblox ID | Rating |
| --- | --- | --- |
| Za Warudo | | |
| Za Warudo 【The World】 Time Stop | | |
| Diego - Za Warudo | | |
| Za Warudo OVA | | |
| | | |
| --- | --- | --- |
| ZA WARUDO star platinum | | |
| ZA WARUDO OVER HEAVEN | | |
| ZA WARUDO | | |
| ZA WARUDO | | |
| ZA WARUDO! | | |
| | Star Platinum Za Warudo | Time Stop | | |
| Za Warudo (Shadow DIO) | | |
| Za Warudo / The World Timestop | | |
| za warudo with ts sfx | | |
| Za Warudo: Over Heaven | | |
| Za Warudo explosive punch | | |
| ZA WARUDO.dio(loud) | | |
| Za Warudo | | |
| Za Warudo - Muda Barrage | | |
| Za Warudo Over Heaven shout | | |
| | | |
| --- | --- | --- |
| Za Warudo Alternate sound effect | | |
| Diego - Za Warudo summon | | |
| ZA WARUDO! | | |
| Za Warudo Rush OVA | | |
| Za Warudo teleport sound | | |
| ZA WARUDO | | |
| ZA WARUDO | | |
| DIO3 za warudo | | |
| Za Warudo Resume OVA | | |
| Star Platinum / Jotaro Za Warudo Time Stop | | |
| Star Platinum: Za Warudo | | |
| ZA WARUDO | | |
| DIO za warudo Toki Wo Tomare | | |
| _Za Warudo_ Sound Effect | | |
| DIO Za Warudo | | |
| ZA HANDO ZA WARUDO | | |
| | | |
| --- | --- | --- |
| za warudo (time stop sound effect) | | |
| DIO3 za warudo 2 | | |
| Enhanced Za Warudo Sound Effect | | |
| Za Warudo! Toki Wo Tomatta... (Tomato) | | |
| Enhanced Za Warudo Sound Effect | | |
| Za Warudo Stand Teleport | | |
| Star Platinum Za Warudo Teleport | | |
| ZA WARUDO! [Injured] | | |
| Za Warudo Summon OVA (Sandbox) | | |
| ZA WARUDO | | |
| #### ZA WARUDO | | |
| Star Platinum, Za Warudo! - Jotaro Kujo (Part 4) | | |
| ZA WARUDO! [Quick] | | |
| Za Warudo Alternate Version | | |