Wii Music Roblox ID
ID:
Rating:
Description:

When you hear this song, it'll bring back the good old days. Even when things are tough, you'll still enjoy the melody. 10/10 song right here.

by Spicy Dorito

Thanks! Your description is awaiting moderation.

Uploaded:
January 06, 2018
Share: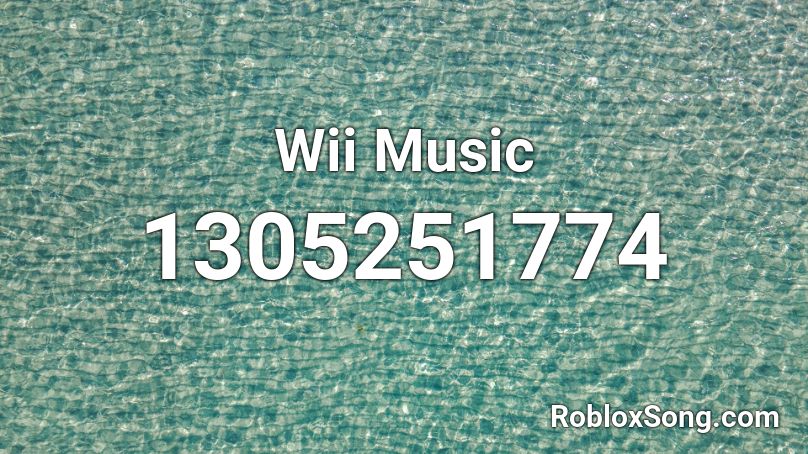 Please click the thumb up button if you like the song (rating is updated over time). Remember to share this page with your friends.
More Wii Music Roblox IDs
| Track | Roblox ID | Rating |
| --- | --- | --- |
| wii music but with the roblox death sound | | |
| wii music but with the roblox death sound | | |
| wii music but with the roblox death sound | | |
| Wii Music | | |
| | | |
| --- | --- | --- |
| wii music but with the roblox death sound | | |
| Coconut Mall - Mario Kart Wii Music | | |
| wii music but with the roblox death sound | | |
| Wii music | | |
| Michael Jackson Wii Music | | |
| Mii Channel Wii Music Remix | | |
| Wii music but Seinfeld | | |
| wii music but with the roblox death sound | | |
| wii music but with the roblox death sound | | |
| wii music but with the roblox death sound | | |
| nintendo WII MUSIC but its a jazz cover (FULL+) | | |
| New Super Mario Bros. Wii Music - Tower | | |
| Legendary Wii music | | |
| Final Boss - Lava - New Super Mario Bros Wii Music | | |
| New Super Mario Bro. Wii Music - Real Final Boss - | | |
| | | |
| --- | --- | --- |
| New Super Mario Bros Wii Music- World 8 Map | | |
| New Super Mario Bros. Wii Music - Starman | | |
| WWII Music | | |
| New Super Mario Bros Wii Music-Volcano Underground | | |
| Nintendo Wii Music - Nighttime (Globe) | | |
| Nintendo Wii Music - Daytime (Globe) | | |
| Mario Kart Wii Music - Mega Mushroom | | |
| Boss - Mario Kart Wii Music | | |
| Final Lap - Mario Kart Wii Music | | |
| New Super Mario Bros. Wii Music - Coin Heaven | | |
| RacingSongMario Kart Wii Music - DS Yoshi Falls | | |
| Wii Music - The Four Seasons (Spring) | | |
| Punch Out Wii Music Credits | | |
| Wii Music - The Loco-Motion | | |
| nintendo wii music but its a jazz cover | | |
| Wii Music Robotic Swan | | |
| wii music but with the roblox death sound (2) | | |