Billie Eilish - Lovely (ft. Khalid) Roblox ID
ID:
Rating:
Description:

Speed is faster, but it sounds very good.

by Lilly

Thanks! Your description is awaiting moderation.

Uploaded:
August 07, 2018
Share: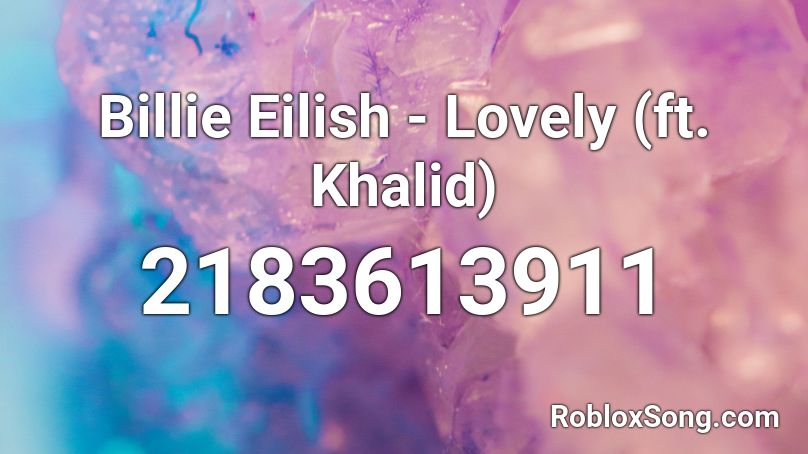 Please click the thumb up button if you like the song (rating is updated over time). Remember to share this page with your friends.
More Lovely Roblox IDs
| Track | Roblox ID | Rating |
| --- | --- | --- |
| BTS Jimin - Lovely Lovely Lovely! | | |
| sus x snot - lovely | | |
| The xmas Lovely day song! | | |
| bane's world - still lovely | | |
| | | |
| --- | --- | --- |
| Die Lovely | | |
| ちいさな冒険者The Xmas Lovely Day Yunomi Remix (Oblongar | | |
| Bill Withers - Lovely Day (Sped up more) | | |
| C h u C h u Lovely ~ Maximum The Hormone | | |
| lovely Tunnel - yeet | | |
| Kamiyada - A LOVELY DAY TO CATCH A FADE | | |
| Lovely Freezing Tomboyish Bath Cirno's Hot Spring | | |
| My Two Lovely Uncles | | |
| lovely day | | |
| Hippie Sabotage - Lovely (Sped up 120% & louder) | | |
| Stevie Wonder - Isn't She Lovely [Jazz Improv] | | |
| Steven Universe - THIS JUICE IS LOVELY | | |
| My Two Lovely Uncles | | |
| Bombed Last Night (Oh What a Lovely War.) | | |
| Lovely Planet - Lovely Planet | | |
| | | |
| --- | --- | --- |
| Lovelyz(러블리즈)- Destiny (Request) | | |
| Fluttershy's Lovely Lullaby | | |
| Lovely Devil (Highschool DxD Ending 2) | | |
| WHAT A LOVELY DAY | | |
| Lovely | | |
| Lovely Day | | |
| CAPE CORAL - Lovely | | |
| Lovely Love | | |
| Lovely Love | | |
| Beat all the Odds - S3RL ft Kitty & Lovely | | |
| LISA the Hopeful OST - Just Lovely | | |
| lovelyz - ACHOO | | |
| Shawty looking lovely | | |
| we are lovely pet | | |
| Lovely Village | | |
| I've Got a Lovely Bunch of Coconuts | | |
| | | |
| --- | --- | --- |
| a lovely horn | | |
| Hippie Sabotage - Lovely (Sped up 120%) | | |
| Lovely | | |
| Lovely Summer Chan - Watashi No Sukina Mono (Yunom | | |
| Lovely complex opening 1 (and stuff xD) | | |
| apink - Lovely Day | | |
| ZUN - Let's Live In a Lovely Cemetery | | |
| SWEET LOVELY MIDNIGHT... Tsuki no Uragawa... | | |
| Любо братці любо (Lovely Brothers, Lovely) | | |
| Cirno's Hot Spring | | |
| Lxove Moves on/Lxove is like that - Kei (Lovelyz) | | |
| Oh what A Lovely war - We'll never tell them. | | |
| セクシーパロディウス : Lovely Otohmia | | |
| Lovelyz 러블리즈~Hi~안녕 (APIECEOFONION REMIX) | | |
| NAGISA NO KOAKUMA LOVELY RADIO - Prim | | |